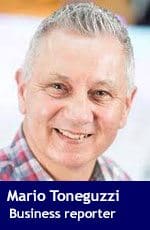 Here's some interesting poll results taken for the Montreal Economic Institute regarding the controversy over oil and recent negative statements about the Quebec's Premier about oil which has angered people in Alberta.
The Leger poll found that 66 per cent of respondents favoured Western Canadian oil, versus just seven per cent who preferred to import oil from the United States, followed by Algeria (three), Nigeria (one per cent), and the countries of the Middle East (one per cent).
"Interestingly for the new Quebec government and its leader, among respondents who identify as CAQ supporters, 79 per cent prefer oil from western Canada," said Germain Belzile, Senior Associate Researcher at the MEI.
"Obviously, Quebecers' opinions regarding the development and the provenance of oil are very different from what is often heard from certain interest groups and from a portion of the political elite.
The MEI is an independent public policy think tank.
The poll also found:
53 per cent of respondents would rather Quebec develop its own oil resources than continue to import the oil it consumes; and

According to 45 per cent of Quebecers, pipelines remain the safest means of transporting oil, far ahead of the other options (14 per cent for tanker trucks, 13 per cent for trains, and nine per cent for boats).
"Clearly, Quebecers know that there is less risk involved in pipeline transport than in the other common modes of transport. This is as true for Montrealers as it is for people living in rural regions," said Belzile. "Over the years, in poll after poll, Quebecers remain just as much in favour of oil and its development.
"Given that both the demand for and the consumption of oil continue to rise, that oil currently accounts for 40 per cnet of the primary energy used in Quebec, and that the development of hydrocarbons would therefore be profitable for Quebec, what are we waiting for to change our public policies?"
The online poll was conducted November 9-12 with a representative sample of 1,005 Quebecers aged 18 and older. Leger said its margin of error is around + or -3.1 per cent.
"It's high time to start weaning the Quebec government off of its dependence on equalization payments by listening to Quebecers and by developing our own resources. The economic situation in Alberta makes it more pressing than ever to let Western Canadian oil pass through our territory, especially given that this oil is highly valued by Quebecers," said Michel Kelly-Gagnon, President and CEO of the MEI.
---

The views, opinions and positions expressed by columnists and contributors are the author's alone. They do not inherently or expressly reflect the views, opinions and/or positions of our publication.