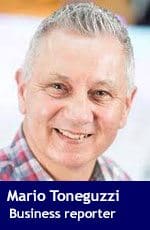 Suncor Energy reported net earnings of $1.812 billion in its third quarter, up from $1.289 billion in the third quarter of 2017.
The company also said operating earnings rose from $867 million last year to $1.557 billion this year.
"Strong operational performance was foundational to our success in the third quarter, resulting in over $3 billion in funds from operations," said Steve Williams, president and chief executive officer, in a news release.
"Our downstream integration and favourable market access position continue to significantly mitigate the impact of wider crude differentials at oil sands. This helped generate significant discretionary free funds flow, which we returned to investors through close to $900 million in share repurchases while also reducing our debt by $1.2 billion."
The company said it established a new quarterly funds from operations record of $3.139 billion ($1.94 per common share) in the third quarter of 2018 and oil sands operations achieved a new quarterly production record of 476,100 barrels per day (bbls/d), driven primarily by strong operational reliability and record in situ production. Upgrader utilization improved to 95 per cent, resulting in a higher value product mix, and oil sands operations cash operating costs per barrel were $22.
The company said the increase in operating earnings "was a result of improved crude oil pricing and increased refinery margins, the addition of sales from the Fort Hills and Hebron projects and record oil sands operations production, despite planned upgrader maintenance which began at the end of the quarter."
"These factors were partially offset by lower Syncrude production, the addition of operating costs at Fort Hills and Hebron, and at Syncrude for the additional five per cent interest acquired earlier in the year, a decrease in capitalized borrowing costs, higher depletion, depreciation and amortization (DD&A) and impairment charges, and planned offshore asset maintenance. The decrease in production at Syncrude was due to the impact of the power disruption that occurred late in the second quarter of 2018 and the staged return to service of the asset. Production at Syncrude has returned to normal operating rates following accelerated planned maintenance and the restart of the third and final coker."
Suncor said it spent $1.180 billion on capital expenditures, excluding capitalized interest, during the third quarter of 2018, a decrease from $1.513 billion in the prior year quarter primarily due to the commissioning of the company's significant growth projects, Fort Hills and Hebron.
"The ramp up at Fort Hills has gone exceedingly well and the asset is now operating at target rates," said Williams. "As Fort Hills reaches sustained target production rates, it is important to note that we have sufficient pipeline access to move all of our Fort Hills barrels to markets in Canada and the U.S. that extend down to the Gulf Coast, where we are able to obtain maximum value for our product."
Mario Toneguzzi is a veteran Calgary-based journalist who worked for 35 years for the Calgary Herald, including 12 years as a senior business writer.
---

The views, opinions and positions expressed by columnists and contributors are the author's alone. They do not inherently or expressly reflect the views, opinions and/or positions of our publication.