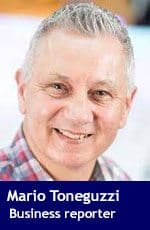 You wouldn't think of not taking a vehicle out on a test drive before making one of the biggest purchases in your life.
So why not a home?
A Calgary homeowner who has listed a property for sale is taking the same concept and adapting it to the real estate industry. The seller is offering potential buyers an opportunity to try the home out prior to making the commitment to buy it.
Calgary realtor Robyn Moser, of Robyn Moser & Associates and RE/MAX Realty Professionals, described the home, which she has listed at 65 Cougar Ridge Close S.W., as a stunning custom-built property with close to half a million dollars in upgrades.
"It's been listed for a bit, which is why I talked to the sellers about different ideas that we could do to help entice people to purchase the home," said Moser. "And honestly when we chatted about it, they had come up with a bunch of different solutions and the reason why we decided the try before you buy is because it's something that everyone always talks about wanting to do. And these guys are in the capacity where they can actually have someone try their house out prior to purchasing.
"They are living in the home as we speak but they have the ability to move somewhere else."
Moser said the owners are offering a stay of about a week but everything is negotiable in real estate. There would have to be an accepted offer by the sellers with the only condition left being for the buyer to live in the home for a period and be satisfied. A deposit would be held in trust with the listing brokerage.
The two-storey home, which is 2,578 square feet, is listed for $949,000 and has been on the market for 84 days as of Wednesday.
"Nestled in the quiet back corner backing onto greenspace and pathways, this home is your Bearspaw home within the Calgary city limits.The large fully landscaped pie shape lot features vegetable gardens, perennials and enough room for a hockey rink," says the MLS listing for the property. The property includes a composite back deck that takes full advantage of the southwest mountain view.
"Inside the home, all your dreams will come true! Not one more window could have been added to this home ensuring a constant flood of natural light. High ceilings! Home automation system! Upgraded seven-inch hand-scraped engineered hardwood floors throughout the top two floors, making this home low allergen! Wood burning fireplace! Highly upgraded kitchen with full height cabinets and a $27,000 appliance package! Granite counters in the kitchen and two baths! All baths come with heated floors! And so, so much more!"
The full listing can be found here, as well as photos and a video of the home.
"In the past, we had a seller offer … $1,000 worth of beer in order to sell their home. We had that in 2012 and then we also did in 2013 an incentive which was a client had offered a $5,000 wedding gift to anyone who purchased their home. This isn't our first time at trying unique seller incentives but this is the first time we've ever suggested the try-before-you-buy scenario," added Moser.
"We also I think had another one where our client offered a $1,000 gift certificate to the restaurant across the street from their condo in Sunnyside."
Mario Toneguzzi is a Troy Media business reporter based in Calgary. He writes for Calgary's Business.
---

The views, opinions and positions expressed by columnists and contributors are the author's alone. They do not inherently or expressly reflect the views, opinions and/or positions of our publication.