2011 Ford Fiesta didn't get a lot of love from Consumer Reports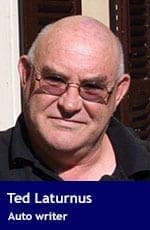 Introduced in 1976 and built in Germany, the original Ford Fiesta was one of the company's most successful models. Over the years, Ford sold some 12 million of the sub-compacts worldwide.
It was discontinued in North America in the early 1980s, despite continuing to be offered elsewhere. In Europe, the Ford Fiesta has consistently been one of the company's best-selling vehicles, available with gasoline and diesel powerplants.
Why did Ford take it off the market over here?
A big part of the reason seemed to be the intransigence of American buyers. Even now, they apparently have a hard time getting their heads around the concept of driving small cars.
Many U.S. consumers are unwilling to get behind the wheel of sub-compact cars (and small displacement diesels), and, like it or not, our neighbours to the south are still the big dogs in North America. If it's big cars and SUVs they want, it's big cars and SUVs they get. Ford, like all carmakers, simply responded to the market.
Anyway, Ford introduced a new, sixth-generation Ford Fiesta at the Los Angeles Auto Show in December 2009. It hit the Canadian market in early 2010 as a 2011 model. It also garnered a win at the 2011 Automotive Journalists Association of Canada Test Fest in the Small Car Under $21,000 category. The closest runner-up here was the Mazda2, which, in many ways, is essentially the same vehicle.
Built on the same platform as the Mazda2 and manufactured in Mexico, the reborn Fiesta was available as a four-door hatchback or sedan (although they looked remarkably similar). It was powered by a 1.6-litre four-cylinder developing 120 horsepower. Transmission choices were a five-speed manual or a six-speed automatic.
Performance was lively, and the new Fiesta boasted more grunt and revving power than one of its fiercest rivals, the Toyota Yaris. With European-designed suspension, it also had better handling and braking than many of its Japanese competitors.
Interior cargo volume, key to this market, was around 980 litres with the back seat folded down, and the Fiesta accommodated four passengers in relative comfort.
There's one safety recall from Transport Canada to report. Apparently, on some models, the passenger side airbag will not deploy due to a glitchy "restraint control module." This recall applies to all years of the new Fiesta, from 2011 right up to 2013, but fixing it is merely a matter of reprogramming the module and is easily done at dealers.
The U.S. National Highway Traffic Safety Administration, meanwhile, has at least 16 technical service bulletins out for the 2011 Ford Fiesta. These include issues with power door locks, problematic software for the airbags, wonky brakes, starting problems and, my favourite, "the manual windows may drop while driving." Hello.
Not a lot of love from Consumer Reports for this one. According to this organization, new model reliability for the first year of the Fiesta was some 38 percent below average, and overall it received a "worse than average" grade.
While the 2011 Ford Fiesta's fuel economy is praised, CR has issues with the lack of interior room and various electronics. A major problem area seems to be the transmission, and things like paint and trim and the audio system can be troublesome. One suspects that Ford's irksome Sync system may be responsible for this last complaint.
Some comments from owners: "transmission is a little jerky with no load," "preferred the driving experience of this vehicle over the new Honda Civic," and "got hit by a big SUV on my driver's side going about 40 mph and I'm still here."
On the other hand, marketing researcher J.D. Power likes this one … sort of. It gave the new Fiesta its highest marks for overall performance and design, comfort, style and interior features. It was also a recipient of this organization's Performance Award.
That said, it fell a bit short in the J.D. Power Initial Quality Survey, with mediocre grades for overall quality. This measures buyer satisfaction in the first few months of ownership. Overall, it gets an "about average" rating for predicted reliability.
Expect to pay anywhere from around $3,500 for a high-mileage base model, right up to the mid-$8,000 neighbourhood for a top-of-the-line, low-mileage SES version.
2011 Ford Fiesta
Engine: 1.6-litre four-cylinder
Horsepower/torque: 120 hp/112 feet pounds
Transmission: Five-speed manual or six-speed automatic
Fuel economy (litres/100 km): 6.9 city and 5.1 highway (automatic transmission), with regular gas
Alternatives: Toyota Yaris, Mazda2, Honda Fit, Kia Rio, Hyundai Accent, Nissan Versa, Chev Aveo, Suzuki SX4.
Ted Laturnus has been an automotive journalist since 1976. He has been named Canadian Automotive Journalist of the Year twice and is past president of the Automotive Journalists Association of Canada (AJAC).
For interview requests, click here.
---
The opinions expressed by our columnists and contributors are theirs alone and do not inherently or expressly reflect the views of our publication.
© Troy Media
Troy Media is an editorial content provider to media outlets and its own hosted community news outlets across Canada.