Buffalo Bill was an interesting blend of the authentic and the fictional. Most of all, he was a gifted showman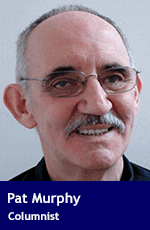 When Buffalo Bill's Wild West opened to the general public on May 9, 1887, it took London by storm and played to massive audiences during its five-month run.
And it wasn't just the masses who flocked to the pageant. Queen Victoria saw it twice, joined the second time by a host of European royalty, including the future Kaiser Wilhelm II and the kings of Belgium, Greece, Denmark and Saxony. Victoria's Jubilee celebrations brought these worthies to town and the Wild West show was served as an appetizer.
Buffalo Bill was an interesting blend of the authentic and the fictional. Most of all, he was a gifted showman.
Born William F. Cody in 1846 Iowa to a Canadian father and an American mother, he spent several childhood years in what is now Ontario's Peel Region before the family moved back to the U.S.
At the age of 14, he became a Pony Express rider – they were looking for "skinny, expert riders willing to risk death daily." Subsequent endeavours included stints as a U.S. Army scout and buffalo hunter. As the latter, he provided meat to construction crews of the Kansas Pacific Railroad and claimed to have harvested 4,280 head over 17 months.
Then, thanks to a writer using the pseudonym Ned Buntline, the authentic Cody was transformed into the hero of the largely fictional serial novel Buffalo Bill, the King of the Border Men. Cody was en route to his true calling.
After founding his Wild West show in 1883, Cody was shrewd enough to build the box office by sharing the spotlight. It wasn't a question of lacking personal confidence or ego but rather a demonstration of the showman's instinctual feel for the attraction of spectacle, notoriety and novelty. Keep the customers satisfied and they'd come back.
For instance, less than 10 years after General George Custer's annihilation at the Little Big Horn, Cody signed Sitting Bull – Custer's Lakota Sioux nemesis – for a four-month summer 1885 tour of the U.S. and Canada. In addition to a signing bonus and a weekly salary, Sitting Bull was granted exclusive rights to the ancillary revenue from portraits and autographs.
There was also the cultivation of a diminutive female sharpshooter from Ohio. Working under the professional name Annie Oakley, Phoebe Ann Mosey toured with Buffalo Bill for many years, earning a celebrity that almost matched his own.
The early 1887 Wild West party that set sail for London was impressive. There were 218 people (including 97 Indians), 180 horses, 18 buffalo, 10 elk, five steers, four donkeys and a couple of deer.
Leaving nothing to chance, an advance party blanketed the city with posters and primed the press. It was American razzmatazz at its brashest, and Londoners lapped it up.
Described as "half circus and half history lesson," Buffalo Bill's Wild West presented a dramatized rendition of what was to become a familiar narrative – the winning of the West as seen through white American eyes. In the process, it established the template for Hollywood Westerns in the first half of the 20th century.
Along with exhibitions of marksmanship, riding and roping, there was "a buffalo hunt with real buffalos, an Indian attack on the Deadwood stage with real Indians, a Pony Express ride, and at the climax, a tableau presentation of Custer's Last Stand in which some Lakota who had actually fought in the battle took part."
Appetite whetted by the 1887 success, the show crossed the Atlantic seven more times between 1889 and 1906. And in addition to travelling the length and breadth of Britain – 29 venues in Scotland alone during 1904 – it played all over Europe, including France, Spain, Italy, Austria-Hungary, Germany, the Balkans and Poland.
Alas, the man who possessed a genius for show business wasn't a great money manager and most of his fortune was gone by the time he died in 1917. Still, his passing attracted tributes from the likes of King George V and U.S. President Woodrow Wilson.
If you're ever in the Denver area with time to kill, go to Cody's grave on Lookout Mountain. Although the winding drive can be nerve-wracking, it's worth it.
Pat Murphy casts a history buff's eye at the goings-on in our world. Never cynical – well, perhaps a little bit.
For interview requests, click here.
---
The opinions expressed by our columnists and contributors are theirs alone and do not inherently or expressly reflect the views of our publication.
© Troy Media
Troy Media is an editorial content provider to media outlets and its own hosted community news outlets across Canada.