Kevin McBain
of The Clarion
Sixty-one members of Kindersley Composite School (KCS) Class of 2017 received their graduation diplomas on June 29 on the stage of the Co-op arena.
Teacher Ryan Street, acting as Master of Ceremonies, did a great job at keeping the evening running smoothly, even sprinkling tidbits of wisdom as the evening progressed.
The evening began with toasts:
to the parents by graduate Dylan Francis, followed by a reply by his mother, Karen Francis;
to the school staff by graduate Shalyn Kennedy, replied to by teacher Amanda Fast;
to classmates by EJ Selby.
Grace was said by Julie Livingstone before supper, prepared by Simply Satisfied Catering, was served.
Graduate Hailey Evoy then opened up the evening's exercises with a beautiful rendition of O Canada.
Parents and friends beamed as each grad's name was called and they walked around the tables to the front.
Scholarships were then presented, thanks to the generous donations by local group and individuals, to the following students helping them to get a head start financially on university life:
[emember_protected for="2″ custom_msg='For more on this story, please see the July 6 print edition of The Clarion.']
Access Communications – Madison Olson;
Eastern Star – Madison Olson and Tabitha Wiebe;
Kindersley Masons – Shalyn Kennedy;
Kindersley Masons Gardiner Bursary – Madison Olson;
Co-op – Tabitha Wiebe;
SLC award – John Enns-Wind;
Synergy Credit Union – Madison Olson and Shalyn Kennedy;
Rotary – Madison Olson;
Haubrich Memorial Scholarship – Kyle Bosch and Hayden Berg;
Kindersley Minor Sports

Hockey – Dylan Francis;
Skating – Madison Olson;
Ball – Jessica Knutson;

Interpipeline – Madison Olson;
Mealey "Keep the Music" scholarship – Rebecca McLean;
GMac's Ag. Team – Jessica Knutson and;
University of Regina Merit Scholarship for scholastic achievement – Julie Livingstone and Tabitha Wiebe.
Ruth Griffith, Kindersley trustee for the Sun West School board, brought greetings and wished all the graduates the best in their future.
The guest speaker was teacher Dave Luukkonen who shared his words of wisdom, including "If you use a public toilet. FLUSH IT!. That's the one bit of advice I have for you. The person who follows you will be grateful."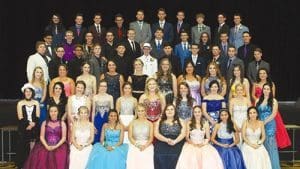 However, he did have a few more words of advice to pass along, such as to be kind and courteous and that "Women do not process events and ideas the way you do, much less the way you think they do. So, think before you speak and listen to your wife."
He also added that commitment is very important, to "avoid doing things halfheartedly", to live a life of service and not to settle for "a career you know that you won't like."
Principal Blain Hilbig then shared some of his thoughts, among them some tips for a better life: Be accountable; be reliable; earn every penny and be ready to become the person you want to be.
The presentation of the scrolls was next, followed by the valedictorian address presented by Madison Olson, who started off by thanking everyone who helped them get to graduation, then shared some of her thoughts despite Mr. Luukkonen attempting to steal her notes.
"It's crazy to think that five years ago we were walking through the front doors of KCS for our first day of high school. Grade 8 was the time when we Westbarbarians had to merge with the kids from the east side of town, which resulted in many new friendships …
"High school is a time for growth, and I think we have all changed in ways we never expected we would …
"Thinking about the future can be scary. Last week we were performing puppet shows in English class and now we are expected to have some sort of a plan for our lives. It is difficult to imagine what you want for your life when you are only 18 years old. The important thing to remember is to not be too hard on ourselves, nobody is perfect. We don't need to have everything figure out yet …
"Don't underestimate yourself. I have seen amazing things from the people in this grad class and I know that there will be even more amazing things in the future. If there is an opportunity in front of you, take it, and believe in yourself that you will accomplish whatever it is that you are working towards."
She closed off by sharing some of the lessons learned by her classmates from their time at KCS.
Try new things, because the worst that could happen is that you learn a new lesson.
You can accomplish anything if you put your mind and effort into it.
Shirts are never necessary, no matter how many people tell you that they are.
Cherish every moment with the people around you because it goes by very fast.
A nap can solve everything.
Don't let other people change the person you want to be.
Kindness goes a long way.
If you're losing at a slopitch game, just force the other team to keep playing extra innings until you win.
And, the last one – as expected – Kobra Football rules!
Congratulations to the Class of 2017.
[/emember_protected]
© Kindersley Clarion