Kenneth Brown
of The Clarion
Canadians everywhere will celebrate an important milestone this weekend and there will be lots for people to do in Kindersley with several groups holding events.
To celebrate Canada's 150th birthday, the Town of Kindersley is hosting activities at Baker Park starting at 11:30 a.m. That event runs until 2:30 p.m., and then the celebration shifts to the Kindersley and District Plains Museum. The museum's activities run from 2:30 to 6 p.m.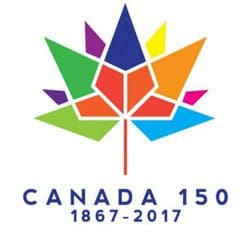 The Kindersley Christian Fellowship church and the Kindersley Seniors Centre are also hosting events for the big occasion. Activities at the church run from 1 to 6 p.m., and seniors centre event runs from 2 to 4 p.m.
Michelle McMillan, the manager of culture and heritage for the Town of Kindersley, said there will be fireworks at dusk and the display will be easily viewed from Jurassic Park, the park along Ditson Drive across the road from the golf course.
"We booked a longer show for this year," she said of the fireworks display. Since it's a special Canada Day, the town wanted to go big with its display. "It will be a 15-to-20-minute show."
[emember_protected for="2″ custom_msg='For more on this story, please see the June 28 print edition of The Clarion.']
She noted that the town's celebration is ready to go and it will follow a similar structure to other years. The event in Baker Park will start with a colour guard ceremony with members of the Legion, air cadets and other groups.
Several groups will be there to provide food, entertainment and refreshments. The Kindersley Elks Lodge and Kindersley Masonic Lodge will offer refreshments. The Kindersley Youth Committee and Kindersley Tourist Booth workers will run activities, and the Kindersley Kobras football parents association is hosting a barbecue.
McMillan said there will be inflatable air rides and other activities at Baker Park for children. There will also be a special guest book for people to sign, so it's a chance to be a part of the town's Canada 150 history, she said.
There will also be a Canada Day photo booth. People can get together with family and friends to have their photo taken with props. McMillan said the booth will allow people to make cool memories at the celebration. The photos are digital, so they're easy to acquire.
She noted that it's nice to host the event in Baker Park because it's home to the town's splash pad and the water attraction is another built-in activity for the children.
She encouraged people to come out and celebrate Canada's 150th birthday.
McMillan said she worked with the museum and church to help co-ordinate activities. The town and museum co-ordinated their events in 2016 to avoid conflict and it worked well for organizers, so they worked together again.
"It was great to have it extend with a full day of activities and to be in two different locations to kind of get people moving around," she said, noting there are more groups involved and events going on in 2017.
Events at the museum will include live entertainment on the newly renovated platform of the Brock Station. The museum is also having a ribbon-cutting ceremony for the old train station, and museum officials will recognize the work and donations that have helped to spruce up the station.
Activities at the church will include a giant battleship game and a slip-and-slide ball game, among other activities.
McMillan said the seniors centre hosts its event to provide a cool place to relax.
[/emember_protected]
© Kindersley Clarion