Kevin McBain
of The Clarion
There is something very special about representing your country, pulling the jersey with the Maple Leaf on it, and trying your best to win for your team and your country.
Braden Close, 22, experienced this feeling for the second time as a member of Team Canada's national development 'para hockey' or sledge hockey, team last week, competing in a three-game tournament against Team U.S.A. in Montreal.
"It has been an honour and a privilege every time I pull on the Team Canada jersey," he said.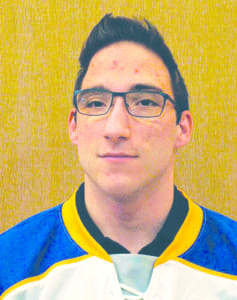 This series of games, part of the 2018 Défi sportif AlterGo series, is a tournament featuring players that may soon be ready for the next step, the national team.
The experience started with a five-day 'NextGen Prospects Camp,' where 30 players were put through a series of practices, off-ice workouts and training sessions, as well as three intrasquad games, all focused on identifying players who will represent Canada in the future on the international stage.
The field was narrowed down to 18 players on April 24. Former NHLer Mike Foligno was the coach of this year's team and he said, on the Hockey Canada website, that it was a solid camp and hard to make cuts.
The team then practised together for the next couple of days, before playing in games April 27, 28 and 29th.
[emember_protected for="2″ custom_msg='For more on this story, please see the May 2 print edition of The Clarion.']
"We had a really competitive camp with a lot of strong candidates and prospects," said Foligno. "We had some difficult decisions in getting down to the 18 players, but we looked at every fact of our evaluations from skill, strength and if they're prepared physically for the competition. We feel we took the best players and prospects available."
The team did pretty well, losing their first game, 2-1 Friday; but came back to win 2-1 on Saturday. Sunday, they fell behind early and lost 4-0.
"I think we did pretty well for just having those few days of playing together," said Close. "But at this level it is all about winning."
This was the second straight year that Close has been a part of this team.
"This was the third year that I went to try out," he said. "The first year I didn't make it. Last year, i was on the team, but this year I played a much larger role and I thought I did pretty well."
He adds that he plays a physical role on the team and this year played a lot more and spent a lot of time on the penalty kill.
Close said that the entire experience was good, busy and exhausting.
"It was definitely a grueling 10 days," he said. "The first five days was hard during the tryouts. After we found that we made the team, the load was a little lighter.
"But we skated every day and we definitely learned a lot about how far you can push yourself," he added.
Close has been working hard towards a spot on the national team and playing in this tournament is a step towards that goal. Several players from this team will be invited to the national team tryouts in September, as preparations begin for the next Paralympic Winter Games that will be held in Beijing, China, in March of 2022.
"I just have to keep working hard," said Close. "The coaches said that one of the things that I should be working on is my skating, so that is something I will definitely be trying to work on.
"This is the start of a new quadrennial, another four-year cycle, and they said that a lot of the guys will be moving on before the next Paralympics, so that opens up some opportunities," he added.
Close has been playing sledge or 'para hockey' since the early 2000s when his parents, Catherine and Mike Close, stared up the Kindersley sledge hockey club to give him a sport to try.
He has played the sport ever since, with the exception of a few years, when he decided to take up competitive wheelchair racing in Saskatoon when he was between the ages of 13-19. He excelled in this sport as well, achieving some great milestones and even putting on a Team Canada jersey, competing in what he describes as the same level as he is now with para hockey.
Between 2013-2017, he attended the University of Saskatchewan taking his degree in Commerce, majoring in management.
After finishing up racing in August 2015, he was invited a month later to try out for Team Alberta. He agreed and earned a spot on the team.
Team Alberta has been dominant on the national stage, winning the last two championships, 2016 in Leduc, Alberta and 2017 in Montreal.
In two weeks, they will try and defend their title at the national championships in Vancouver May 10-13th.
Close has played sledge hockey for a long time and he says that the sport is definitely seeing some growth and earning more 'respect' in the sports community.
That national team has had success including a great showing at the Paralympic championships in PyeongChang, South Korea, where Team Canada earned a silver medal.
"I think people are getting to know the sport more," he said. "We had quite a few people watch our games in Montreal last week. Prior to our Sunday game there were kids playing sledge and when they came off the ice, they wanted our autographs and get their pictures taken with us.
"Hockey Canada is trying to raise the profile of the game," he said. "Like normal hockey we had to dress up whenever we went out.
"Hockey Canada is working on teams to play 'The Canadian Way,' raising the bar with everything we do on and off the ice," he added.
The 'Canadian Way' slogan has been adopted by Hockey Canada and as a model of how that the game should be played – with integrity, character on and off the ice, being prepared, putting in your best effort all of the time,
What's next? The possibilities are endless. All the best!
[/emember_protected]