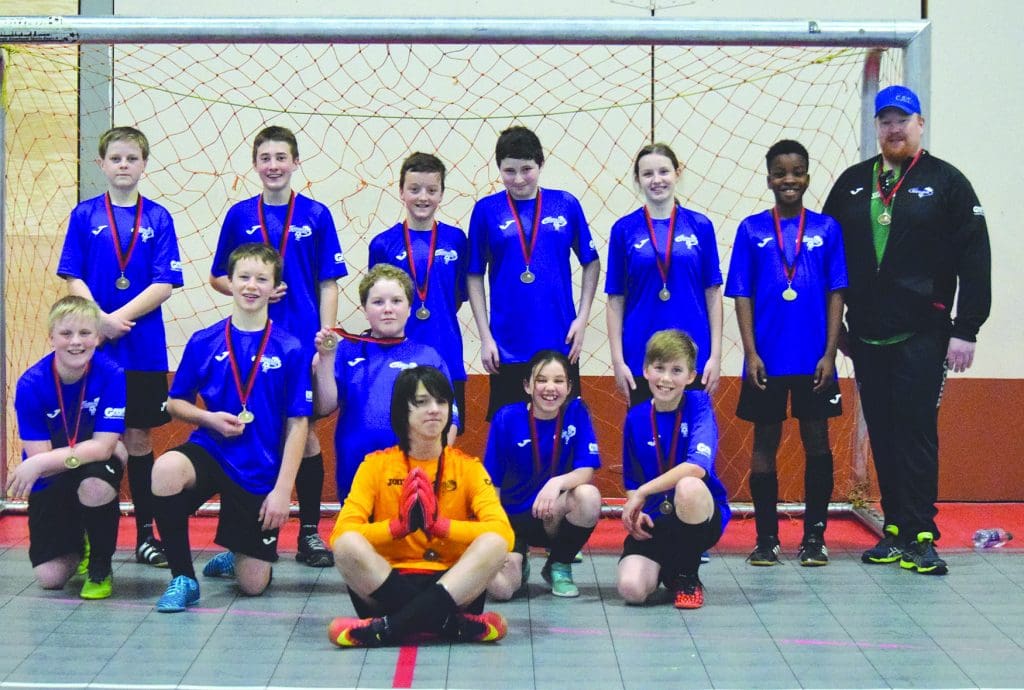 Clarion staff
Three Kindersley Storm FC teams competed in the SUSC soccer tournament in Saskatoon on the weekend and two came back with medals.
The under-13 squad earned a gold medal with a 3-2 victory in the gold medal championship, in the eight-team draw, over the Prince Albert Celtic.
To get there, the Storm ended up finishing first in their four-team pool, defeating the SUSC Strikers, 8-4 in their opening game Saturday afternoon. Sunday, they blanked the Eastside Rovers, 5-0 and Sunday evening, they lost 4-3 to the Hollandia Woods.
Their 2-1 record gave them a first place tie with the Strikers but the Storm was awarded first place, due to their win over the Strikers in their preliminary match.
Coach of the team is Martin McGrath and he is very happy with how well his team played.
[emember_protected for="2″ custom_msg='For more on this story, please see the Feb. 21 print edition of The Clarion.']
"They played really, really awesome. I couldn't have asked any more from them," he said. "They play together so well and they believe in and trust each other."
The under-11 squad did very well in their six-team draw as well.
The team finished first in their pool with a 2-1 record, defeating Aurora, 8-3 and SUSC Arsenal, 9-1, before losing their final preliminary match to SPDSA Phoenix-Carvalho, 8-4 in a cross-over game.
Phoenix-Carvalho finished first in their pool with a 3-0 record with that win.
The two teams ended up playing each other in the gold medal match and in this one, the Storm fell short, losing 3-0.
Coaches of the team are Tyrel Beckman and Bernie Morton.
The under-17 boys competed in a four-team draw and did not end up having as much luck, going 0-3 in the tournament. They lost two very close games to SUSC Nitro 2-1 and SUSC Arsenix, 2-1 and the JJ Excelsior FC, 6-1.
Coaches of this team are Darin Wildman and Tom Janowska.
The under-17 club will now head to Moose Jaw this weekend for the under-17 provincial championships.
Next up for Kindersley soccer is outdoor registration, to be held between March 5 and 27 online only. You can register by going to their Facebook page and hit the link or by going directly to ssa-kindersley.goalline.ca.
The club's annual general meeting has also been set for March 20 at 7 p.m. at the Kindersley Elks Hall. The club is looking for coaches, managers, board members and volunteers.
[/emember_protected]