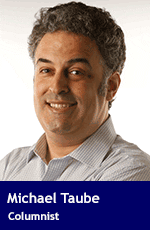 An intriguing new figure entered the Canadian political arena last week.
Caroline Mulroney, daughter of former prime minister Brian Mulroney, will seek the Ontario Progressive Conservative nomination for the Toronto-area riding of York-Simcoe. She has an impressive resume: lawyer, a vice-president at investment-counselling firm BloombergSen and active with several charities.
It's far too early to predict how her political career will evolve. Nevertheless, it's a massive pickup by Ontario PC Leader Patrick Brown – and she'll immediately become the party's star candidate.
Most observers compared this scion of a prominent Canadian political family to the scion of another prominent Canadian political family, Prime Minister Justin Trudeau. That's not illogical, based on their ages and similar backgrounds.
Yet my immediate thoughts were on the scion of a prominent American political family: Caroline Kennedy, daughter of John F. Kennedy.
Besides the obvious trait of having the same first name, there are some unusual similarities between the Canadian Caroline and American Caroline. They both earned undergraduate degrees at Harvard University. They both obtained law degrees from institutions in the same state: Mulroney from New York University and Kennedy from Columbia University. They're both philanthropists.
As well, both Carolines maintained low public profiles and distanced themselves from the high-profile political worlds they grew up in.
The American Caroline was notoriously invisible, save for her support of Democratic presidential candidate Al Gore and a speech at her party's national convention in 2000.
This changed when she endorsed then-Democratic presidential candidate Barack Obama. In a Jan. 27, 2008, New York Times op-ed, she wrote: "I have never had a president who inspired me the way people tell me that my father inspired them. But for the first time, I believe I have found the man who could be that president – not just for me, but for a new generation of Americans."
Was it a preposterous assessment? Yes. Did it help Obama beat Hillary Clinton in a tight nomination battle and go on to serve two terms in the White House? Yes.
The American Caroline later flirted with running for Clinton's New York Senate seat when the latter became Obama's secretary of state. She ultimately decided against it but was appointed by Obama as the U.S. ambassador to Japan (2013-2017). Her name is even being floated as a possible presidential candidate for 2020.
The Canadian Caroline didn't seem like a potential political candidate, either. She spent nearly a decade as a child at 24 Sussex Drive but, like her American counterpart, seemed content to stay out of the public spotlight.
Then something unusual happened.
Toronto Sun columnist Christina Blizzard wrote in a Dec. 12, 2015, column that the "beautiful, fluently bilingual and well-educated" Mulroney was the "best choice to be the new leader of the federal Conservative party, many Tory insiders believe." In fact, she could be "Justin Trudeau's worst nightmare."
The lid briefly blew off the Canadian conservative movement. The gut feeling was that it was nothing more than idle political gossip and that was confirmed three days later in Blizzard's follow-up column. She quoted an email from Mulroney that said, in part, "While I am committed to public service and I am flattered by the suggestion, I am focused on my four young children and my work."
Fair enough. But what most readers probably missed was an intriguing quote from Brown. The relatively new Ontario PC leader told Blizzard that Mulroney, a friend, was "smart, articulate, savvy and has a heart of gold." Moreover, if she "does choose to run, she would certainly be a formidable candidate."
A seed had been planted, either knowingly or unknowingly. Two years later, it has been cultivated by the Canadian Caroline, who may go further in politics than her namesake, the American Caroline, ever desired.
Intriguing times, indeed.
Michael Taube, a Troy Media syndicated columnist and Washington Times contributor, was a speechwriter for former prime minister Stephen Harper. He holds a master's degree in comparative politics from the London School of Economics.
---

The views, opinions and positions expressed by columnists and contributors are the author's alone. They do not inherently or expressly reflect the views, opinions and/or positions of our publication.