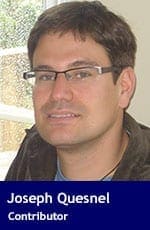 Pondering the crisis so many First Nations communities face over water quality, you can't help but think of The Rime of the Ancient Mariner by Samuel Taylor Coleridge: "Water, water, everywhere, Nor any drop to drink."
The ironic dilemma of the mariner is obvious in more than 90 per cent of Canada's First Nations communities. Most are close to large bodies of water yet few can deliver clean water to their citizens.
The federal government and band councils need to get serious about water quality in First Nation communities. Clean drinking water should be a fundamental right for all Canadians.
The federal government got into hot water in early February for lack of progress on improving First Nation water systems. The Liberals made a big deal about ending boil-water advisories on First Nations during the 2015 election campaign, yet nothing has been done more than two years later.
Indigenous Services Canada previously committed to ending long-standing boil-water advisories in First Nation communities by March 2021 at the latest.
However, although 40 advisories have been eliminated since November 2015, 26 new advisories have surfaced. Now, 91 boil-water advisories are in place.
Between 2006 and 2014, the former Conservative government invested about $3 billion to help First Nations improve and manage their water and wastewater systems.
A report by then-Aboriginal Affairs and Northern Development Canada (AANDC) found that many First Nation water systems had substantial improvements in their risk levels over this period.
One of the biggest unsung successes of the Conservative government was the passage of the Safe Drinking Water for First Nations Act in 2013. This act filled the legislative gap in water quality regulations on First Nations.
In the fall of 2014, the government initiated a period of regulatory development under the act. According to Indigenous and Northern Affairs Canada, the government was working on developing regulations jointly with Health Canada and First Nation partners, region by region.
But when the new government was elected in 2015, Indigenous Affairs Minister Carolyn Bennett was instructed to pause regulatory development. The government put the whole act under legislative review, meaning the regulations are still not implemented.
According to a spokesperson, the federal government is still talking with the Assembly of First Nations (AFN) and other Indigenous organizations to come up with a "possible amendment or repeal of the current legislation and the development of a new legislative framework."
While these talks take place, people are boiling their water before even bathing their children.
Why is the government working with AFN and other First Nation lobby groups behind closed doors?
Sadly, it's because the Liberals apparently support band chiefs and their lobby groups more than grassroots First Nations citizens.
The Safe Drinking Water for First Nations Act lists all the regulations possible on the recommendations of the minister. The first regulation says they are responsible for "the training and certification of operators of drinking water systems and wastewater systems."
Of course, the proper training of operators, especially those who manage the wastewater systems, is critical to improving the drinking water problems in First Nations. So it's crucial that government not gut legislation that allows for regulations for those fundamental operators.
The solution is not to dump more funds into systems without proper regulations.
John Graham, when with the Institute on Governance, argued that the answer is not for First Nations to be "isolated dots" across Canada. First Nations need to work with neighbouring non-Indigenous communities on providing water services or, at least, use the provincial certification programs that are available.
Solving this seemingly intractable problem should be quite simple. Gutting current legislation designed to help fix the problems and simply increasing funding will only make the problems worse.
Joseph Quesnel is a research associate with the Frontier Centre for Public Policy.
---

The views, opinions and positions expressed by columnists and contributors are the author's alone. They do not inherently or expressly reflect the views, opinions and/or positions of our publication.