Michael Murray is founder of Block Talk.
Calgary's Business: What's Block Talk?
Murray: Block Talk is an app for your phone. You should download it to send and receive urgent safety alerts specific to the communities you choose to follow. It has five other categories of communication, including a platform to communicate non-urgent crime such as vandalism, house break-ins, car prowlings, etc. – making it an ideal app for neighbourhood crime watch groups.
The remaining four categories of communication are Block Board (bulletin board for everything else), community associations (including community groups such as churches, schools, etc), lost pets and missing persons.
When a user signs up for the app, they choose which communities they would like to follow, then the information in their feed is just specific to those communities. Block Talk recognizes that a person occupies more than just the community they live in, therefore the app was designed so you can follow as many communities as you like.
A typical Block Talk user follows the communities they live in, work in, play in, where their extended family lives, where their children go to school, and surrounding communities because crime and communication don't stop at community lines.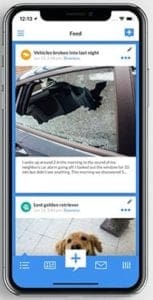 Block Talk is willing to set community groups up on their own community-branded accounts. These groups include community associations, churches, schools, etc. One group could have multiple accounts, for example: there could be a separate account for community events, another for neighbourhood crime watch, etc. Every community at the very least should have a crime watch account.
CB: Who is this app best suited for?
Murray: If you would like to receive real-time urgent safety alerts from other people in your community, then you should download the app.
Should an urgent situation occur, or a child is missing, etc., then the first thing you should do is call police. However, the second thing you should do is post it on Block Talk into the community where it's happening, so that everyone else in that community knows in real-time.
But don't worry, your phone won't send notifications all day long as other activity occurs on the app (unless of course you want it to) – you can customize the notifications within the app on a per community basis.
Organizations that should be on the app are crime watch groups, community associations, community event groups, church groups, schools, City of Calgary, community business groups, etc.
The app provides a hyperlocal platform to post information specific to a geographical community (consisting of people that live there, work there, play there).
And, let's not forget about Calgary businesses. They are always looking for a way to market themselves as 'community focused' or 'building safe communities.' This is a great app for them to advertise on.
CB: How difficult is it in today's technologically-advanced world to keep a sense of community?
Murray: People are proud of the communities they occupy on a daily basis (where they live, work, play), so most people want to know what's going on within their communities (both good and bad news).
However, today's technologically-advanced world is steered by the companies behind the technology, so Block Talk is hoping to steer community back into people's lives and connect those who want to be connected on a community basis.
It doesn't happen overnight and I have further technologies that I would like to add to the app to further provide users with this ability to connect. Further, a sense of community is going to be different for everyone, but most people have a common interest in public safety – so this is where I started.
I've lived in Calgary for 22 years now, but grew up in small town Manitoba and have always been proud of my small-town roots – I hope to create a small town feel on this app that's connected to the world (when you want it to be).
CB: What are your future plans for the company?
Murray: I think big, so the end goal is to spread this app across Canada and North America. I'm ready to grow now, so if there are any cities, towns, or municipalities interested in Block Talk being released into their communities, please reach out to me – info@blocktalk.ca / www.blocktalk.ca – I'm happy to make it happen.
CB: Why did you get involved in this venture?
Murray: In May 2017, an urgent safety situation took place in my neighbourhood. At the time, I volunteered as the president of the local community association, so most communication about our neighbourhood would come to me. However, in this case I didn't find out about the situation until 10 hours later, and someone else could have been hurt.
When it came time to email our membership, it took our association three days to get the email out because it was a long weekend (albeit most businesses can't send an email out to their membership on a long weekend) and there was a glitch in our technology.
But even after three days we received multiple replies thanking us for the sending the email, as some members didn't know that this situation had occurred in our neighbourhood.
So I thought the world needed an app that gives you the ability to send an urgent safety message to the community in real-time and that connects community, but doesn't pinhole you to following just one community because when it comes to real-time messages, you should be in the know where you live, where you work, where you play, etc.
– Mario Toneguzzi
---

The views, opinions and positions expressed by columnists and contributors are the author's alone. They do not inherently or expressly reflect the views, opinions and/or positions of our publication.