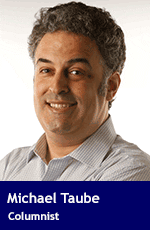 It's interesting how the smallest of events can sometimes trigger a significant flood of memories. That happened to me recently when my eyes gazed over a DVD box set of Season 1 of The Boondocks in a remainder bin.
The Boondocks was based on Aaron McGruder's controversial comic strip of the same name, which ran from 1996 to 2006. It was one of the most offensive, race-baiting and anti-establishment comic strips ever to grace a mainstream newspaper page.
The main characters were as stereotypical as the strip itself. Huey Freeman was a 10-year-old radical socialist who wore an Afro and distrusted the white establishment. His eight-year-old brother, Riley, was anxious to become part of the gangsta crowd. They lived in a nearly all-white suburb of Chicago called Woodcrest with their grandfather, a throwback to the Martin Luther King era of racial harmony.
Other characters include Jazmine DuBois, a biracial child; her black father Tom and white mother Sarah, who are both lawyers; and Cindy, a curious young white liberal who doesn't know what to make of Huey and Riley.
The Boondocks wasn't a coming of age strip. It was more like a 'coming of anger.'
Huey once wrote a paper for school about black conservatives called "Ward Connerly Is a Boot-Licking Uncle Tom." He and his friend Caesar try to get Secretary of State Condoleezza Rice a boyfriend in hopes of changing her position on the war in Iraq. His grandfather watched a black version of U.S. President Donald Trump's old TV show The Apprentice called (wait for it) Can't a N—a Get a Job?
The TV version of The Boondocks ran sporadically on Adult Swim, part of The Cartoon Network, between 2005 and 2014. It finished with four seasons and 55 episodes in total.
Unsurprisingly, it followed the same pattern as its print predecessor. In a dream sequence in the premier episode, Huey stepped onto a podium at a garden party and proclaimed Ronald Reagan was "the devil" and the White House is covering up "the truth about 9/11." All the white people panicked and ran, and Huey loved every moment of it.
Interestingly, The Boondocks animated series started just days after the burial of civil right activist Rosa Parks. It was an unfortunate sign of the times that as an inspirational figure was laid to rest, an aggressive social critic reaped the benefits in an entirely different manner.
Many observers, predictably, loved The Boondocks.
The New York Post's Linda Stasi called it a "big, seriously politically incorrect, brilliantly funny show that delivers belly laughs of the South Park quantity." Seattle Post-Intelligencer's Melanie McFarland described it as "hilariously scalding onscreen as it is on the daily comics pages," and Pittsburgh Post Gazette's Rob Owen noted it "doesn't restrict its caustic wit to skewering white culture. As in the comic, some of the sharpest barbs are saved for African-Americans." The New York Times' Alessandra Stanley proclaimed it's "all about race, an African-American version of Doonesbury that is, if anything, more politically charged. Especially in the conscientiously colourblind world of television, the animated version … is a jolt of shock therapy."
Could The Boondocks have succeeded in the Trump era?
I'm not entirely sure.
There have always been comic strips that try to provoke readers. Little Orphan Annie examined the gap between the rich and poor. Calvin and Hobbes challenged readers to think and be imaginative. Bloom County tackled everything from politics to sexual innuendo.
These strips occasionally examined similar socio-political topics to The Boondocks. Yet they did so in a fashion that only raised eyebrows, not blood pressure.
McGruder obviously has artistic talent and his stance against political correctness was always admirable. But his obsession with race and politics turned off many people.
His natural audience likely agreed with rapper Kanye West's ridiculous statement that then-President George W. Bush "doesn't care about black people" in the wake of Hurricane Katrina, went to the Millions More Movement in Washington to hear Nation of Islam leader Louis Farrakhan, and may have incorrectly believed white Americans were against them.
Taking all this into account, it's hard to believe McGruder was heavily influenced by Peanuts creator Charles M. Schulz. Could two cartoonists have ever been more different?
The Boondocks wasn't for the faint of heart. If anyone sees that box set and gets a little curious, let's hope their hearts won't suddenly fail!
Troy Media columnist and political commentator Michael Taube was a speechwriter for former prime minister Stephen Harper.
---

The views, opinions and positions expressed by columnists and contributors are the author's alone. They do not inherently or expressly reflect the views, opinions and/or positions of our publication.