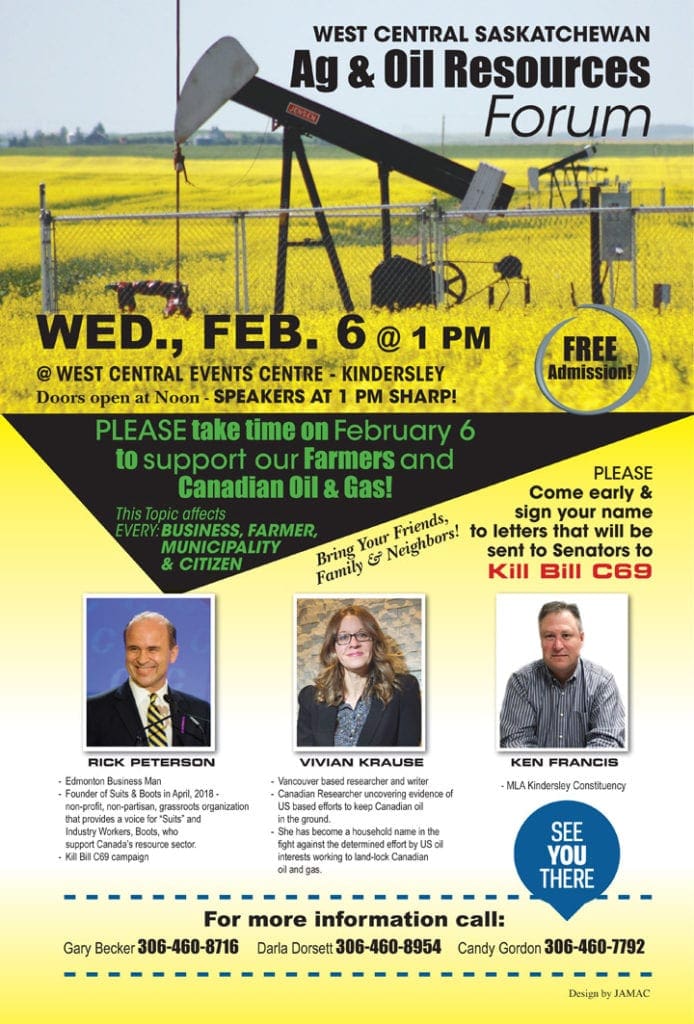 Kenneth Brown
of The Clarion
A forum for those who oppose Bill C-69 takes place next week and it will give people the chance to help send an important message to the Canadian Senate.
The West Central Saskatchewan Ag & Oil Resources Forum takes place at the West Central Events Centre in Kindersley on Feb. 6 at 1 p.m. The doors will open at noon and people are being encouraged to get there early to sign their names to letters bound for the Senate.
The forum features three guest speakers and they will start at 1 p.m. The goal of organizers is to help influence Senators to kill Bill C-69, an act to enact the Impact Assessment Act and the Canadian Energy Regulator Act, to amend the Navigation Protection Act and to make consequential amendments to other acts.
[emember_protected for="2″ custom_msg='For more on this story, please see this week's print edition of The Clarion.']
Guest speakers include Rick Peterson, founder of the organization Suits and Boots, Vivian Krause, who is a writer and researcher with an interest in Canada's oil and gas industry, and Kindersley MLA Ken Francis.
Suits and Boots is described as a non-profit and non-partisan grassroots organization that provides a voice for executives and industry workers in support of Canada's resource sector. Peterson is a businessman from Edmonton. The Vancouver-based Krause researches the efforts by the United States to keep Canadian oil in the ground and she is fighting against U.S. oil interests working to keep Canadian oil and gas landlocked.
Bill C-69 has received its second reading in the Senate, so it is one reading away from going on to receive Royal Assent. The bill passed its second reading on Dec. 12 and it has been referred to the Standing Senate Committee on Energy, the Environment and Natural Resources for deliberation.
Darla Dorsett, a Kindersley business owner, is one of four people who spearheaded the idea to organize a forum. Dorsett has a history of involvement with the oil and gas industry, and she said it is time for industry supporters to speak up.
She noted that people who rely on the industry cannot sit on the hands and ignore the situation any longer, so people have been taking action by holding rallies and protests. She said the rallies, protests and large convoys of trucks on highways have been impressive.
Dorsett said it is not right for the people to sit and do nothing, and the need to speak up was the motivation behind the forum. She said people in the industry are worried about their livelihoods and "we're fighting for our lives."
During a conversation with a fellow business owner, she said she was told about the Suits and Boots organization. According to Dorsett, the organization has focused in on Bill C-69 and its people have even been able to meet with Prime Minster Justin Trudeau.
She said Suits and Boots has been encouraging resource industry supporters to send messages to Senators, so she asked a group of people to meet with her at her office. Dorsett said the group did discuss organizing a convoy of trucks, but Highway 7 is already dangerously congested.
The group continued to discuss ideas for how to make a difference, she said. No matter how impressive the convoys have been, Dorsett said national media outlets are not covering them. The group spent a long time talking, she explained.
It was realized that the group needs people to write letters to the Senate. Dorsett said people in the industry are still working hard to make ends meat, so they are busy when work is there and she wondered how many people would write their own letters to the Senators.
The oil and gas services sector in the region is doing its best to work with oil companies to keep the work flowing, but people in the area are still struggling and it is believed the forum could help, Dorsett said.
"We believe we can make a difference by getting our voices heard at the Senate level," she said, recognizing that the belief is every business and person in the region will be affected by the impact Bill C-69 will have on the oil and gas industry.
Dorsett said the agriculture industry became part of the discussion. A lack of pipelines to move oil is causing companies to transport oil by rail, and the congestion is causing delays and disruptions in grain movement. Crops have to be transported by railcars and pipelines could help to take oil off the rails, Dorsett said.
She said Peterson and Krause are excellent speakers, and Cypress Hills-Grasslands MP David Anderson also plans to attend the forum. She encouraged people everywhere to attend the forum and added organizers hope "every citizen in Kindersley and west central area shows up."
[/emember_protected]