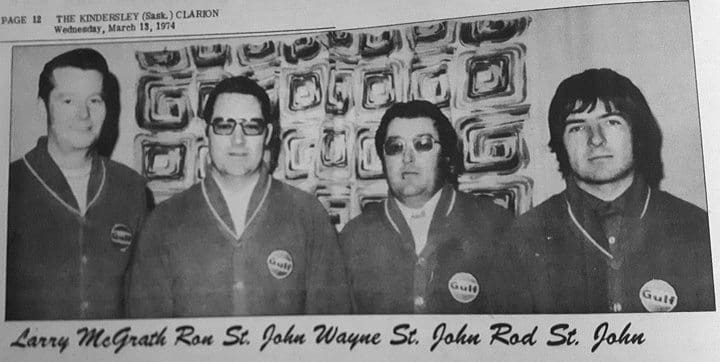 Clarion staff
Larry McGrath and Rod St. John were among the nearly 80 attendees honoured at the opening ceremonies of the Tim Hortons Brier on Saturday afternoon. in Regina.
The Brier committee invited all of the previous Saskatchewan Tankard winners to participate in the opening ceremonies at the event.
Larry and Rod were members of the 1974 provincial Tankard championships, along with Wayne St. John and Ron St. John.
Larry said that it was quite the event.
"We went out with the regular teams and we were out on the ice for about a half hour," he said. "We were able to do lots of reminiscing while we were there. They treated us very well."
[emember_protected for="2″ custom_msg='For more on this story, please see the Mar. 7 print edition of The Clarion.']
The team won the provincial championships and then moved on to the Macdonald Brier in London, Ontario. They finished second in the event with a record of 7-3. Hec Gervais ended up winning the event with a record of 8-2.
He mentioned that the oldest winner in attendance was Ernie Richardson, who is 86 years old.
Ernie, Arnold, Sammy and Wes Richardson won the championships five times in a six year span starting in 1959.
Also in attendance at the event was Sandra Schmirler's daughter, Sara England who was joined by Sandra's team'mates Jan Betker, Joan McCusker and Marcecie Gudereit, who earned a gold medal in women's curling at the Nagano Olympics just over 20 years ago. England threw out the ceremonial first rock
Larry, was not only part of the men's championships, but he was also a member of the mixed national championships that won the event three times in 1967, 1968 and in 1971.
Larry McGrath played with Darlene Hill, John Gunn and Marlene Dorsett in 1967, 1968 and in 1971, Audrey St. John took Marlene Dorsett's place and John Gunn took over for Peter Gunn.
[/emember_protected]