Kenneth Brown
of The Clarion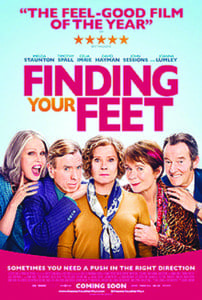 An opportunity for people to experience a taste of the Toronto International Film Festival (TIFF) is returning this fall thanks to a special film series.
Kindersley Screen Arts runs an annual film series in town and the organization acquires the rights to films from TIFF. The group shows a film on the fourth Saturday of each month at the Sunset Theatre.
The first film of the series is Finding Your Feet and it will be shown on Sept. 22 starting at 4 p.m. All films in the Kindersley Screen Arts series start at 4 p.m. Admission to the films is always $10, and people must be 19 years old to attend because wine and beer are served at the theatre.
[emember_protected for="2″ custom_msg='For more on this story, please see this week's print edition of The Clarion.']
Judy Lavoie, a spokesperson for Kindersley Screen Arts, said "Finding Your Feet" is a British comedy. The story is about a woman who finds out her husband is having an affair with her best friend, so she escapes to London to stay with her estranged sister.
The first film takes place on the Saturday of Goose Festival, and Lavoie agreed it is not a bad time for a film. People could stop by the theatre on their way home from the festivities on Main Street throughout the day.
Kindersley Screen Arts used to be part of the Kindersley & District Arts Council, but it has split from the arts council to become its own separate organization. This year is the first year the organization has branched out on its own, Lavoie said. Good crowds have come out for films in the past.
"We're getting really good crowds," the spokesperson said, recognizing that nearly all of the films have been good even though they might not be well known. "We're very happy with it. We'd like to get more, obviously, but we are getting good crowds."
[/emember_protected]